Contact us
Anhui Hualing Automobile Co., Ltd
Add: Room 1311, Building C, Lane 58, No.1 East Xinjian Road, Minhang District, Shanghai City, China
Post Code: 201199
E-mail: globalsales2013@gmail.com

Home

Products

Tractor truck

CAMC Lightweight Tractor 6×4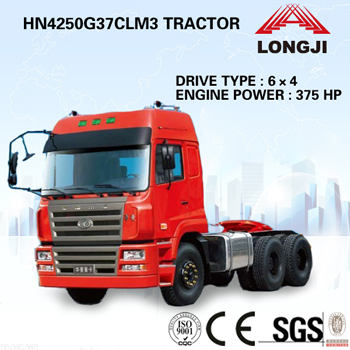 CAMC Lightweight Tractor
Main Parameters:

Relevant Dimensions(mm)
Type
Tractor 6×4
Wheel Base
3200+1350
Overall Length
6730
Overall Width
2495
Overall Height
3560
Warehouse Length
Warehouse Width
Warehouse Height
Front Overhang
1370+75
Rear Overhang
840
Frame Ground Clearance
1360
Frame Height
278
Frame Width
940/842(front/rear)
Wheelbase
2065/1860
Power of CAMC Lightweight Tractor 6×4
Engine Type
WP10.310E32
WP10.340E32
Pattern
In-line, Water Coiling, Six-cylinder
In-line, Water Coiling, Six-cylinder
Oil Feeding System
Inner EGR
Inner EGR
Rated Power/Rotate Speed (KW/r/min)
228/2200
250/2200
Max. Torque/Rotate Speed (Nm/r/min)
1250/1200-1600
1350/1200-1600
Cylinder Diameter×Stroke
126×130
126×130
Admission Method
Inter-cooling
Inter-cooling
Output Volume (L)
9.726
9.726
Idling Speed
600±50
600±50
Way of Cooling
Water-cooling
Water-cooling
Max.Net Power/Rotate Speed (KW/r/min)
224/2200
246/2200
Max.Net Power/Rotate Speed Fuel Feeding
0.178
0.204
Noise Db(A)
<93
<93
Emission
Euro-3
Euro-3
Weight (kg)
Steering System of CAMC Lightweight Tractor 6×4
Clutch System
Curb Weight
8700
Redirector
ø100
Type
ø430 Pusher Clutch
Overall Weight
48895
Steering Kinetic Pump
Liquid Pump
Control System
Hydraulic Pneumatic Control
Overall Mass of Quasi-tractor
40000
Transmission Performance
Brake System of CAMC Lightweight Tractor 6×4
Other Parameters
Top Speed
120 km/h
Type
Double-loop Pneumatic Braking
Type of Tires
11.00R22.5
Max Gradient
25%
Type of Brake
Drum Brake
Fuel Tank Capacity (L)
380L
Model of Gearbox
RTO-11509F
Parking Brake
Spring Type
Capacity of Batteries (Ah)
135 Ah
Gears
9
Emergency Brake
Spring Type
Drive Axle Speed Ratio
4.44
CAMC Heavy Truck Tractor 4×2
Lightweight Principle of CMAC Heavy-duty Truck Tractor 4×2: With excellent the performance, bearing capacity and security of truck, the lightweight treatment is realized by optimizing the design structure, applying new materials and technologies and adopting the lightweight assembly. Main Technical Performance and Specification of CAMC Heavy Truck Tractor ...

CAMC Heavy Truck Tractor 6×2
Established in May, 2003,Anhui Hualing Automobile Co., Ltd or CAMC is a professional manufacturer and supplier of heavy-duty trucks. Its leading products include CAMC heavy tractor truck, cargo truck, general dump truck, mining dump truck, the special vehicle chassis and overall vehicle series for engineering and municipal government, the auto parts assembly series as heavy axels. ...