Contact us
Anhui Hualing Automobile Co., Ltd
Add: Room 1311, Building C, Lane 58, No.1 East Xinjian Road, Minhang District, Shanghai City, China
Post Code: 201199
E-mail: globalsales2013@gmail.com

Home

Products

Tractor truck

CAMC Heavy Truck Tractor 4×2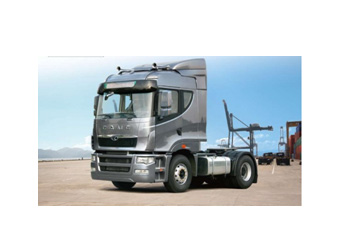 CAMC Heavy Truck tractor
Lightweight Principle of CMAC Heavy-duty Truck Tractor 4×2:   
With excellent the performance, bearing capacity and security of truck, the lightweight treatment is realized by optimizing the design structure, applying new materials and technologies and adopting the lightweight assembly.
Main Technical Performance and Specification of CAMC Heavy Truck Tractor
| | | | | |
| --- | --- | --- | --- | --- |
| Weight Reduction Item | State before Weight Reduction | Optimizing Structure Design | New Material Application | Weight Reduction |
| Frame | 8+5mm  layer frame | Optimized to be 10mm single-layer frame | Adopt WL650 high-strength single-layer frame plate | 110KG |
| Spring | Front 4/rear 9+6 | Front 4/rear 9+6 | | 6KG |
Product Model
Axle Base(mm)
Driven Type
Allowable Dragging Mass
Total Mass (kg)
Engine
Max Power
Spring Leaf
Tire Specification
Transmission Box
Drive Axle
HN4180HP34C4M3
3400
4×2
34005
18000
P11C-UJ
350
4/9+6
11.00R20
12.00R20
12.00R22.5
12JS160TA
HL460
HN4180HP34C4M3
3400
4×2
34005
18000
ISMe345
345
4/9+6
11.00R20
12.00R20
12.00R22.5
12JS160TA
HL460
HN4180HP34C4M3
3400
4×2
34005
18000
WP10.336N
336
4/9+6
11.00R20
12.00R20
12.00R22.5
12JS160TA
HL460
HN4180HP34C4M3
3400
4×2
34005
18000
ISLe340
340
4/9+6
11.00R20
12.00R20
12.00R22.5
12JS160TA
HL460
HN4180HP34C4M3
3400
4×2
34005
18000
WD615.95E
336
4/9+6
11.00R20
12.00R20
12.00R22.5
12JS160TA
HL460
HN4180HP34C4M3
3400
4×2
34005
18000
L34030
340
4/9+6
11.00R20
12.00R20
12.00R22.5
12JS160TA
HL460
CAMC Heavy Truck Tractor 6×2
Established in May, 2003,Anhui Hualing Automobile Co., Ltd or CAMC is a professional manufacturer and supplier of heavy-duty trucks. Its leading products include CAMC heavy tractor truck, cargo truck, general dump truck, mining dump truck, the special vehicle chassis and overall vehicle series for engineering and municipal government, the auto parts assembly series as heavy axels. ...

CAMC Heavy Truck Tractor 6×4
Definition of New Criteria on Lightweight for Heavy Truck The sole brand to win the model of year twice in heavy-duty industry. Lightweight Principle of CAMC Heavy Truck Tractor 6×4 Under the condition that the performance, bearing capacity and security of truck are ensured, the lightweight is realized by optimizing the design structure, applying new materials and technologies and adopting the lightweight assembly. ...